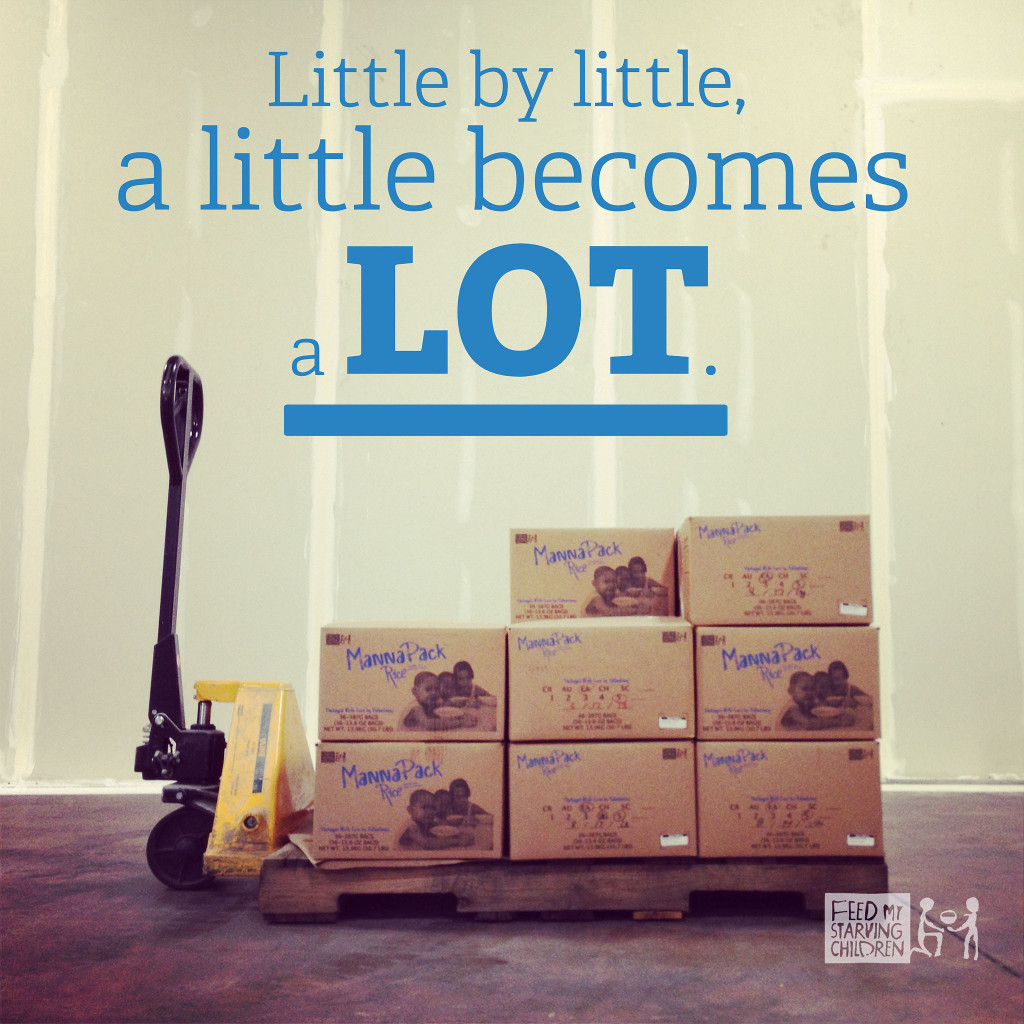 Lancaster County Feed My Starving Children MobilePack
Blessed are those who are generous, because they feed the poor." – Proverbs 22:9
We invite you to join us in being a part of the hunger solution through this Lancaster County Feed My Starving Children MobilePack. This is an opportunity to learn about hunger related issues, pray for those in need, raise funds to cover the cost of meals and pack meals for the hungry. Through this powerful event, we can impact the lives of thousands of children.
Feed My Starving Children is a non-profit Christian organization committed to feeding God's children hungry in body and spirit. The approach is simple: children and adults hand-pack meals specifically formulated for malnourished children, and we ship the meals to nearly 70 countries around the world.
Next FMSC Mobile Pack Coming
March 27-30 2020
Packing 300,000 meals with 1500 volunteers from the community with a
fundraising goal of $66,000 to cover the cost of the meals.
It's time to sign up for the 6th Lancaster County Feed My Starving Children MobilePack. So gather your family, friends, school groups, church groups, sports groups, Scouts, neighbors, businesses, co-workers and anyone else you can think of.
What: Lancaster County Feed My Starving Children MobilePack (FMSC) – Packing 300,000 meals with the help of 1,000 community volunteers to feed those most in need around the world! Since 2014, our meals have been sent to the following countries: Somalia, Haiti, Belize, Malawi and the Dominican Republic. The meals are healthy, safe for severely undernourished children, and vegan – comprised of soy protein, rice, dehydrated vegetables and vitamins. Each meal costs only 22 cents!
Who:
You!
If you are between the ages of 5-205, we need you! Both standing and sit down jobs are available.
Childcare for children 4 years old and younger will be available for Willow Street Mennonite Church families during the Sat. 9-11AM shift. This is a popular time slot, so register early if you want to attend and need childcare. Notify the church office if you need childcare with the names and ages of your children or email Lora Mangus Wenger at
lmw4fmsc@gmail.com
.
When: March, 27-30 2020.
Where

:

Here at Willow Street Mennonite Church.
·
Fundraising Goal: We need to raise $66,000
This amount covers the cost of the meals being packed. Each volunteer is encouraged
to donate $50 to cover the cost of the meals a typical volunteer will pack in 2 hours.
Regardless of whether you can donate 22 cents or $200, we welcome you to come pack with us!
It is a great experience that you won't want to miss!
Donations may be submitted on-line for our event
here.
or mailed to the address below. Make checks payable to FMSC and write MobilePack #1903-013MI
in the memo line.
FEED MY STARVING CHILDREN
ATTN: MobilePack #1903-013MI
Want to learn more?
Check out the following Youtube videos: